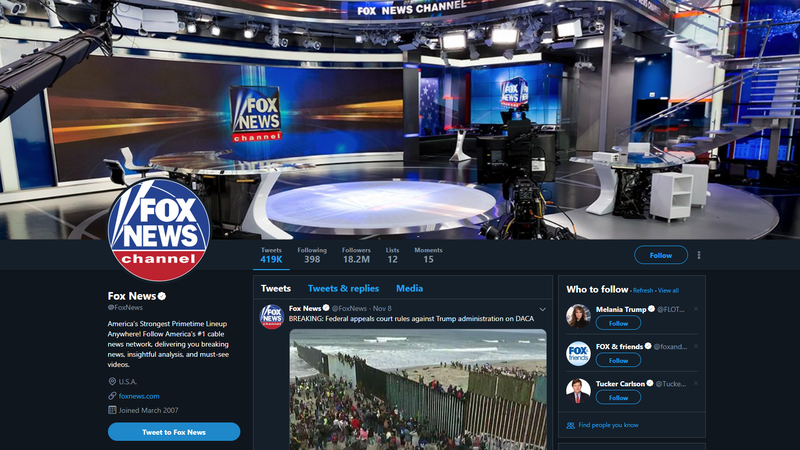 Screenshot: Twitter
Imagine, if you will, a world without Fox News. That's largely been the case on Twitter since Thursday, when many of the network's official Twitter channels went silent.
Apparently, this is all part of a silent protest against the social media network over an angry demonstration at host Tucker Carlson's house last week. Carlson and right-wing media have characterized the event as involving a terrifying mob of antifa thugs that tried to break into his house while his wife was home, while liberal site Think Progress, which had someone at the scene, characterized it as a deliberately unsettling but non-violent event that involved one incident of vandalism (an anarchist symbol spray-painted on a driveway done by one person against the will of others) and was subsequently exaggerated by conservative media.
According to internal emails obtained by Business Insider, senior Fox staff ordered the blackout after Carlson's address was posted to Twitter and they were allegedly unable to have the site's moderators take it down in a timely manner:
In the email, Fox News managing editor Greg Wilson told employees to "please refrain from tweeting out our content from either section accounts or your own accounts until further notice."

A source within the network who wished to remain anonymous told Business Insider that the email was sent to the entire digital team, which consists of approximately 140 people.

A spokesperson for the network did not immediately respond to a request for comment.
According to a tweet from Scott Gustin, a content strategy manager at Tribune Media, a "Fox News employee" said Twitter support told the network that they would need to "open a ticket," then failed to remove the posts. Gustin added that Fox sent the internal emails on Saturday, and that the network intends to stop tweeting until the posts are removed and they receive an apology. (The network's primetime opinion shows, as well as other programs like Fox & Friends, are unaffected, Gustin wrote.)
Silent protests are a mainstay of the civil rights and social justice movements; one of the most historically significant ones in the U.S. was in 1917, when somewhere between 8,000 and 10,000 black residents of New York City held a silent parade accompanied only by the sound of drums in protest of deadly white supremacist violence including lynchings across the country. As the History Channel wrote:
The NAACP, founded just eight years earlier by W.E.B. Du Bois and other activists, sprang into action. At a meeting in Harlem, James Weldon Johnson, who had joined the organization in 1916, called for a protest march through the heart of New York City's business district. Women and children would take the lead (including a troop of young, black Boy Scouts), clad in white. Men would follow behind, dressed in darker, more mournful shades. And critically, despite the NAACP's large white membership, only African Americans would participate.
The History Channel noted that the march was a watershed moment in U.S. civil rights history, helping set in motion subsequent peaceful protests that later developed into the Civil Rights movement. According to the History Channel, New York Times wrote that it was "one of the most quiet and orderly demonstrations ever witnessed."
What Fox News appears to be doing is appropriating some of the trappings of civil rights protests like those, and in doing so, snap up some of that dignity.
Without taking any stance on the protest at Carlson's house, however, these are not equivalent situations. Carlson is not a civil rights advocate, nor is he fighting for the rights of the oppressed. His show is more or less a constant stream of outrage porn and pro-Donald Trump propaganda, and he's increasingly adopted talking points from white nationalist movements including the "white genocide" conspiracy theory, misrepresentations of what is actually going on with attacks on farmers in South Africa, racist rants about immigration, and diatribes about "diversity extremists." At one point, Carlson aired a segment devoted to a bad-faith demand that diversity proponents justify "diversity" in things like marriage or the military:
How precisely is diversity our strength? Since you've made this our new national motto, please be specific as you explain it. Can you think, for example, of other institutions such as, I don't know, marriage or military units in which the less people have in common, the more cohesive they are? Do you get along better your neighbors or your co-workers if you can't understand each other or share no common values? Please be honest as you answer this question. And if diversity is our strength, why is it okay for the rest of us to surrender to one of our central rights, freedom of speech, to just a handful of tech monopolies?
More recently, Carlson hosted a guest, Mark Steyn, who defended white people who wear blackface costumes. Hmm.
In any case, Fox News has unintentionally come up with its first genuinely bipartisan position in living memory. It has voluntarily ceased tweeting. The rest of us can cease reading its tweets.
[Business Insider]
Share This Story