wed, 16 dec 2015, 14:16
Turkey morrelt to asieleisen EU
ISTANBUL –
Turkey morrelt to the requirements that the EU sets, before this 3 billion euro to pay for tackling the refugee problem. So declared minister for European Affairs Volkan Bozkir on Wednesday that he is the European contribution within a year is expected. The EU showed willingness of the money over the next two years to pay.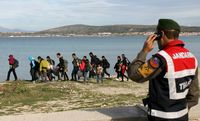 Refugees in Çesme, Turkey
Photo: Reuters
The EU is demanding in exchange for the billions of a better shelter for the Syrians in Turkey and stricter control of the Turkish borders. Bozkir stated that the money only to Syrians is spent, such as the EU demands, but that Turkey itself will decide which it is issued. "We have plans that we spend the money and will soon disclose," said Bozkir.
The EU wants a commission to compile and jointly with Ankara to determine where the money is going.