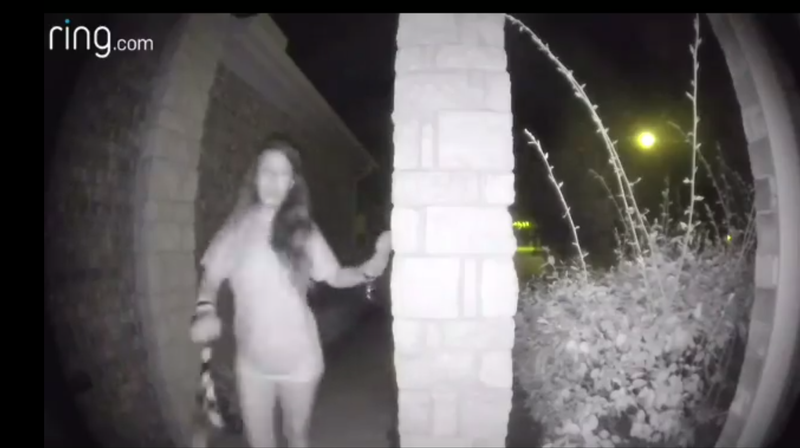 A woman seen ringing a doorbell in Montgomery County, Texas on August 26th, 2018.Screenshot: Montgomery County Sheriff's Office (Facebook)
Montgomery County, Texas police are investigating an eerie incident captured on a home surveillance system in which an unknown, partially dressed woman in what appeared to be severed hand restraints rang local residential doorbells late at night.
According to the BBC, the "apparently barefoot and semi-clothed" individual was picked up on home surveillance footage approaching a home in the town of Sunrise Ranch and ringing its doorbell around 3:20am ET on August 26th, 2018. The woman disappeared before the homeowner arrived at the door.
ABC News wrote that a local resident said the woman rang doorbells at several homes. While the Montgomery County Sheriff's Office (MCSO) told ABC News they had received multiple reports that the woman in question resembles individuals seen on missing persons flyers, "as of now none are believed to be the women in the video."
Without more context, it's impossible to tell whether the footage captured a hoax, a person who was intoxicated or disoriented, or something more sinister.
A more recent report in Reuters on Tuesday afternoon shows that while police have solicited public help in identifying the woman, had canvassed the area, and are reviewing other surveillance footage, they have had no success shedding light on the incident. MCSO is asking anyone with information on the person captured in the video to call them at 936-760-5800.
Gizmodo reached out to an MCSO press liaison about the status of the investigation, and we'll update this post if we hear back.
[BBC/Reuters]