night with 130 km/h on A2 overstrain may of right
Posted on 22-12-2015 to 15:30 by dizono – 36 Comments"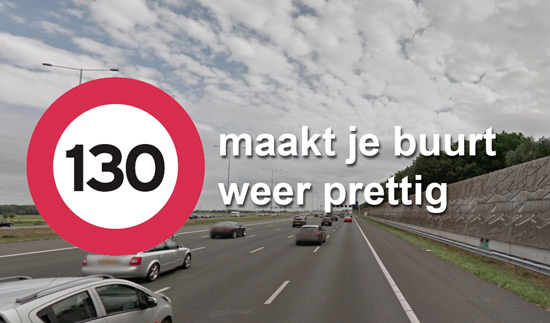 'You damn six strips of asphalt at your disposal, there are also nighttime limit of 100 km/h to maintain would be abject and infaam,' says the judiciary today.
That variable limit, 100 km/h during the day, 130 km/h at night, is a little idea out of the hat of our lievelingsminister Melanie. A compromise, because during the day 130 (or even 120) more than would be reasonable, but soit. However, it was against the sore leg of the municipalities of Stichtse Vecht and Ronde Venen, since to them it was promised that in the widening of the A2 at a speed of up to 100 km/h should be maintained.
Not only the municipalities are disappointed ("it provides only a two-minute time savings, and the emissions will be much higher, says municipalities across ANP"), also of friends of the earth netherlands is going to fail just a huilmailtje on the digital mat. '46% of the additional emissions of NO2, higher CO2 emissions and more of this. The Minister argued, however, that cars are now much cleaner (gnagna) and with the additional emissions however. In addition, the road is wide and safe enough for 130 km/h. And there it was, the court without more.
The fight is still not over, our Melanie has already proclaimed that within a year, also during the day the limit will increase from 100 to 130. Milieudefensie has already dug in and preparing for the next battle. And garde!