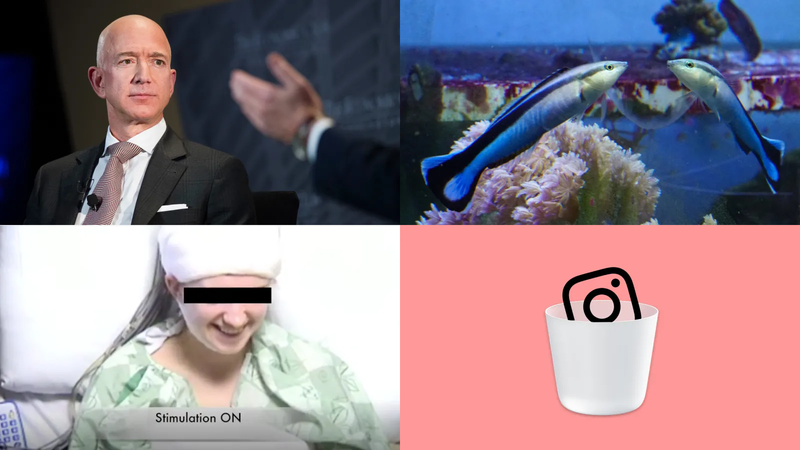 Photo: Cliff Owen (AP); Photo: Alex Jordan; Illustration: Gizmodo / Apple; Screenshot: Journal of Clinical Investigation
A good rule of thumb if you're going to threaten to publish nude photos of the richest man on the planet unless he says you're not working with the Saudi government is: Probably don't do that! And if for some reason you are reckless enough to do that, you probably shouldn't do so in writing!
Yet this is exactly what allegedly happened in the last week's most reality-distorting news item: Amazon CEO Jeff Bezos posted copies of a purported email exchange between him and the National Enquirer in which the latter threatened to publish a series of Bezos' nude selfies unless he publicly retracted his "false, vicious, speculative, and unsubstantiated" statements that its reporting was "instigated, dictated or influenced in any manner by external forces, political or otherwise." Not smart!
But there was also plenty of eyebrow-raising news this week: Reddit is reportedly trying to land a $150 million investment deal from a Chinese censorship powerhouse, a fish just passed the classic mirror test for self-awareness, doctors are zapping peoples' brains during surgery, and this weekend a remote Russian town declared a state of emergency over numerous, roving groups of "aggressive" polar bears. All this and more, below:

Jeff Bezos Accuses National Enquirer of Using Unpublished Nude Photos as Blackmail
The saga of Jeff Bezos's very public divorce slouches onward. The Amazon CEO published a personal…
Read more Read

Reddit, Banned in China, Is Reportedly Set to Land $150 Million Investment From a Chinese…
Who really thinks about where the money is coming from as long as you get the money?
Read more Read

The GOP Is Introducing More Fake Net Neutrality Bills
This trick is getting old.
Read more Read

A Fish Just Passed a Mirror Test for Self-Awareness, but What Does That Mean?
New research seems to demonstrate that a fish called the cleaner wrasse has passed the famous…
Read more Read

Doctors Zap the Brains of Awake Brain Surgery Patients to Make Them Laugh and Have Fun
Some forms of brain surgery require patients to be awake and responsive—a rather unsettling…
Read more Read

A Crowdfunded Idea to Clean the Great Pacific Garbage Patch Is Now a $35-Million Nonprofit.…
A skinny young man with a mop of dark hair takes the stage at a 2012 TEDx event. His name is Boyan…
Read more Read

A Fleet of Networked Mushroom Farms Is Spreading Across New York 
BROOKLYN, NEW YORK—Between the pasta and deli counters in the middle of a Whole Foods is the last…
Read more Read

The Funeral Directors Deployed to America's Deadliest Disasters
Last November, as wildfires ravaged the town of Paradise, California, Robert Vigil received an…
Read more Read

10 Horror Films That Contain Equally Horrifying Works of Art
Netflix movie Velvet Buzzsaw stars Jake Gyllenhaal as an art critic who becomes engulfed in…
Read more Read

This Was The Best Star Wars Title Reveal Ever
No matter how, when or where we find out the title for Star Wars Episode IX, there's little doubt…
Read more Read

What We Know About Every Star Trek Show in the Works Right Now
After years and years on the back burner, Star Trek is truly ascendant on television once more.…
Read more Read

I Cut the 'Big Five' Tech Giants From My Life. It Was Hell
Week 6: Blocking them all
Read more Read

Is Permatripping Real?
For decades, every town had its spin on the story: the distant cousin or friend of a friend who…
Read more Read

The Tortured Case for Deleting Instagram
There are a lot of reasons to delete Facebook. The company has been violating your privacy and…
Read more Read

AMD's Radeon VII Is a Great Gaming Card, But That's Just the Beginning
AMD's fighting competitors on all fronts. It's battling Intel in the CPU space, with each company…
Read more Read

Will Tech Workers Rise Up Around Automation, Too?
Over the last year or two, it's sure felt like a seismic shift's been underfoot in the way tech…
Read more ReadShare This Story