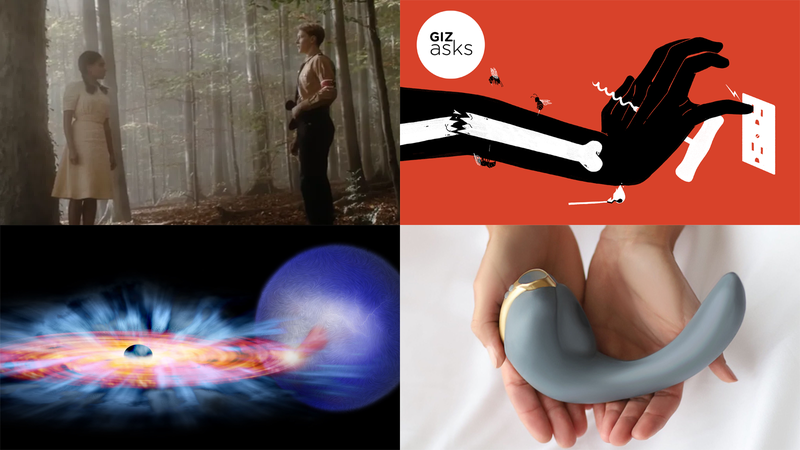 Screenshot: YouTube/Vertical Entertainment; Illustration: Chelsea Beck (Gizmodo); Photo: Lora DiCarlo; Illustration: NASA/CXC/M.Weiss
Ten hut, Gizmodo readers! Do you have a New Year's Resolution you should be working on? Do not answer that rhetorical question, because yours are the feeble dreams of weaklings and mine is to whip this sorry, good-for-nothing blog audience squad into shape!
ROLL CALL! Scroll on down and click those links! I don't want to hear any bellyaching from this cowardly crew of ingrates and dumb-comment-leavers. You WILL read about how cartographers for the U.S. military inadvertently drew hordes of people looking for stolen smartphones to someone's house! You will also read about how bounty hunters are buying phone location data from carriers, how millions of Americans may be mistaken about their food allergies, and all the movies you should be looking forward to in 2019! You will also read about how the first bendable phone may be a fascinating piece of junk and our review of M. Night Shyamalan's Glass!
After that, you will then engage in a strategic ego-building exercise by leaving comments complimenting our authors on how smart and good they are! If there is any time left before bed, you will leave further comments with glowing reviews of our personal sartorial choices and perhaps our extremely cute and friendly pets! Go, go, GO!

How Cartographers for the U.S. Military Inadvertently Created a House of Horrors in South Africa
The visitors started coming in 2013. The first one who came and refused to leave until he was let…
Read more Read

International Space Station Telescope Makes Amazing Observation of Black Hole Eating Stuff
A telescope on the International Space Station made an incredible high-resolution measurement of…
Read more Read
Is CES Afraid Of Sex or Women or Both?
CES, the annual conference showcasing the cutting-edge in consumer tech, has a reputation for not…
Read more Read

Report of Bounty Hunters Buying Phone Location Data Leaves U.S. Senators Seething
Senate Democrats called on federal agencies Wednesday to investigate the practice by major…
Read more Read

Producers of Nazi Romance Movie Appear to Be Using DMCA Takedowns to Silence Critics
Where Hands Touch, director Amma Asante's new film about a love story between a biracial black teen …
Read more Read

Millions of Americans Are Wrong About Having a Food Allergy, Study Suggests
Millions of Americans might be mistaken about their self-professed food allergy, suggests a new…
Read more Read

Scientists Have a Plan to Turn Seabirds Into Tiny Ocean Science Labs
In the future, cyborg birds may help monitor ocean currents and help ground-truth satellite data.…
Read more Read

The Joshua Tree Fiasco Is Why Parks Should Be Closed During the Shutdown
In a bizarre decision on Wednesday, Joshua Tree National Park reversed course on closing its gates, …
Read more Read

Deadly Class, and the Powers and Limitations of a One Man Show
There's one thing that's clear from visiting the set of Syfy's new comic book series, Deadly Class: …
Read more Read

io9's Guide to All the Movies You Should Give a Damn About in 2019
Last year was one of the biggest years ever at the box office, and 2019 looks like it could easily…
Read more Read

Captain Marvel Will Bring the Might of Carol Danvers to the Big Screen and Change the MCU
I've been waiting seven months to tell you something: We be Skrullin'.
Read more Read

Glass Is a Frustrating, Unsatisfying Conclusion to the Unbreakable Saga
Nineteen years ago, I saw M. Night Shyamalan's Unbreakable and fell in love. To this day, it's one…
Read more Read

What's the Worst Pain?
Some people say that life is pain. Those people are optimistic: life isn't pain, it's pains,…
Read more Read

The Vive Pro Eye Is the Next Big Step for VR
While Facebook and Oculus are out there going after regular folk with the Oculus Go and the…
Read more Read

The First Bendable Phone Is an Exciting Piece of Junk
Back in November, just days before Samsung teased its flexible display phone, Royole burst onto the …
Read more Read

Nvidia CEO Trashes AMD's New GPU: 'The Performance Is Lousy'
Yesterday I spent two hours listening to the CEOs of rival companies talk trash about each other.…
Read more Read

YouTube Allows Disney Nerds to Relive Extinct Theme Park Attractions
The Disney nerd community recognized a sad anniversary yesterday. It's been 20 years since the ride …
Read more Read
Share This Story