We all understand that megapixels is not important, but when it comes to buying cameras, the choice often falls on a model with higher resolution. The arguments sound very different: they say, in the future would be ashamed to show pictures of the past, cut fragment can be represented in the form of a single shot and the like. And, oddly enough, cameras are deliberately low resolution today nobody produces. Only Sony offers a sober look at things and is Alpha A7S II. The one who will voluntary refuse participation in the megapixel race will get a package of nice bonuses, which we will talk today.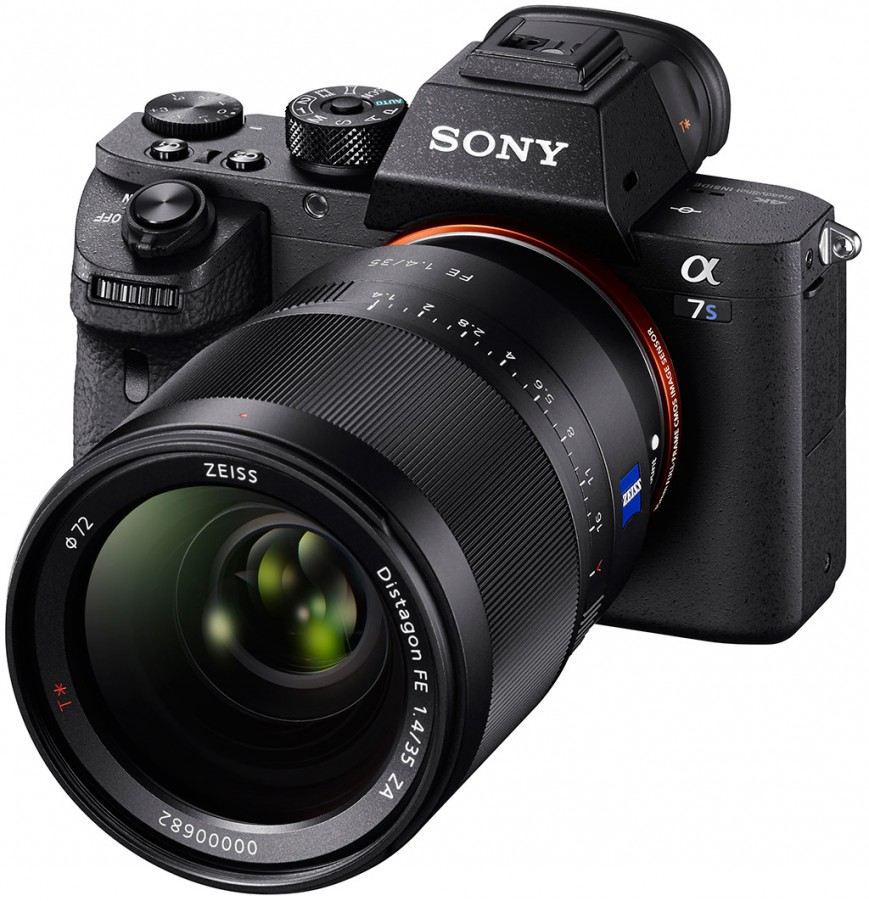 Sony Alpha A7S II, official portrait
Of course, A7S II is not entirely new camera – it only develops the ideas proposed by the original A7S last year, without changing the overall philosophy. Full frame with 12 megapixels, high sensitivity and wide opportunities for the video – that's what the Alpha A7S II. And now more.
High-tech downshifting
A tabular comparison of the A7S and A7S II is unlikely to show significant differences, however, in everyday work, the camera has become much easier. Even increased the weight went to her benefit – the case ceased to seem like a toy, and is perceived as a very serious tool. Even from the side.
Sony A7S II
Sony A7S
Class
full-frame interchangeable-lens camera
full-frame interchangeable-lens camera
Matrix
CMOS (35,6×23,8 mm), 12 MP
CMOS (35,6×23,8 mm),12 MP
Mount
Sony E
Sony E
Photo format
JPEG, RAW (4240×2832)
JPEG, RAW (4240×2832)
Video format
MPEG4, XAVC S, AVCHD: 4K (3840×2160@30p/24p), Full HD (1920×1080@120p/60p/30p/24p)
MPEG4, XAVC S, AVCHD: Full HD (1920×1080@60p30p/24p), HD (1280×720@120p/60p/24p)
Sensitivity range
ISO 100 – 409600
ISO 100 – 409600
The range of exposure
1/8000 – 30 c
1/8000 – 30 c
Screen
TFT LCD, tilted design, the diagonal of 3 inches, resolution – 1 228 800 dots
TFT LCD, tilted design, diagonal 3 inches and a resolution of 920 000 points
Viewfinder
e-the resolution at 2.36 million dots, 100% frame coverage, magnification 0.78 x
e-the resolution at 2.36 million dots, 100% frame coverage, magnification 0.71 x
Flash
no
no
Wi-Fi
built-in module + NFC
built-in module + NFC
Memory
SD/SDHC/SDXC/Memory Stick Pro Duo/Pro-HGDuo
SD/SDHC/SDXC/Memory Stick Pro Duo/Pro-HGDuo
Stabilization
mechanical (shift matrix), a five-axis
no
Interfaces
USB 2.0, HDMI, microphone input, headphone output
USB 2.0, HDMI, microphone input, headphone output
Battery
NP-FW50, Li-ion, 1020 mAh
NP-FW50, Li-ion, 1020 mAh
Dimensions and weight
127x96x60 mm 627 g
127x94x48 mm 489 g
Price
214 990 rubles
139 990 rubles
The main question to Alpha A7S II goes something like this: are there any benefits in 12-megapixel matrix? Of course, there is. First, it is possible to increase the maximum sensitivity (ISO 409600). Second, in burst mode the camera is less critical to the speed of memory cards. Thirdly, storage of long-term archive can be arranged without significant cost. For preservation of 20 thousand RAW images with Alpha A7R II will need more than 1 terabyte of space, and in the case of A7S II – less than 300 gigabytes. At the Amateur level, the organization of the archive is unlikely to be urgent, but from the point of view of a professional photographer is important. And then, the 12 megapixels is still enough for most tasks. The web is easy. Printing press – easily. Sale in news agencies and drains with no problems. The only thing the A7S II can be difficult – large print, but it's a narrow niche that can close other models of Sony cameras.
Charming brutality
Taking A7S II in your hand you will notice that it was larger and heavier than its direct predecessor. Partially weighting can be justified by the presence of a built-in stabilizer, but it is not important. More durable and massive body, comfortable grip for the right hand and a generous finish of external panels of rubberized plastic in the spirit of top-end SLR cameras. As a result the camera can be used without problems with one hand even with large and heavy lens (in my case – Sony 35mm F1.4).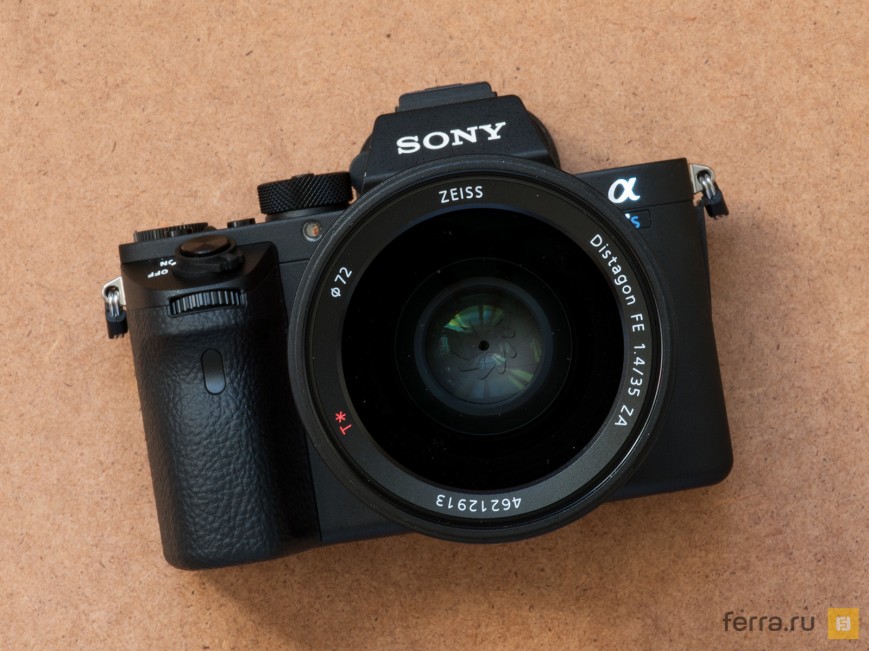 General view of the Sony Alpha A7S II
The control layout is fundamentally unchanged, but there is a small improvement. Stylish is thick, but frankly uncomfortable metal drums appeared rubberized plastic scrollers, reminiscent of SLR cameras Nikon. Sony logically reasoned that among buyers A7S II will be a large proportion of "migrants" with mirrored systems, which means that the transition period should pass quickly and painlessly. Convinced "nikonist" confirm: it worked.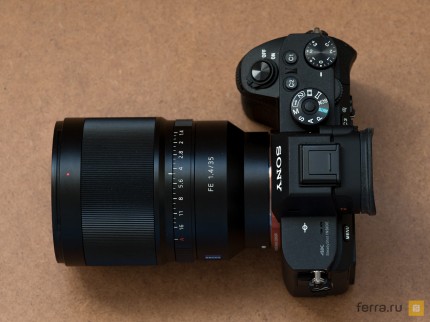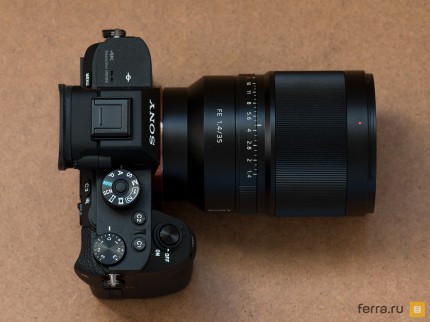 Switch shooting modes on the top panel has got a locking mechanism, which was lacking in the original model, but without new items. There is still available the creative zone modes (P, A, S, M), and automatic, panoramic mode, scene detection and separate position for shooting video. The last mode switches the information display and viewfinder, and opens access to new settings in the context menu.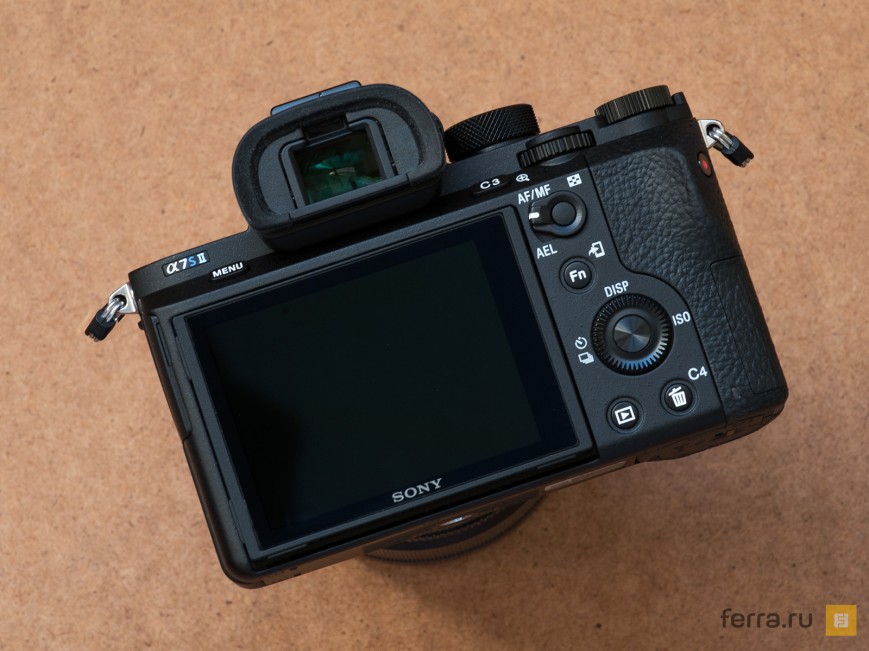 The back case Sony Alpha A7S II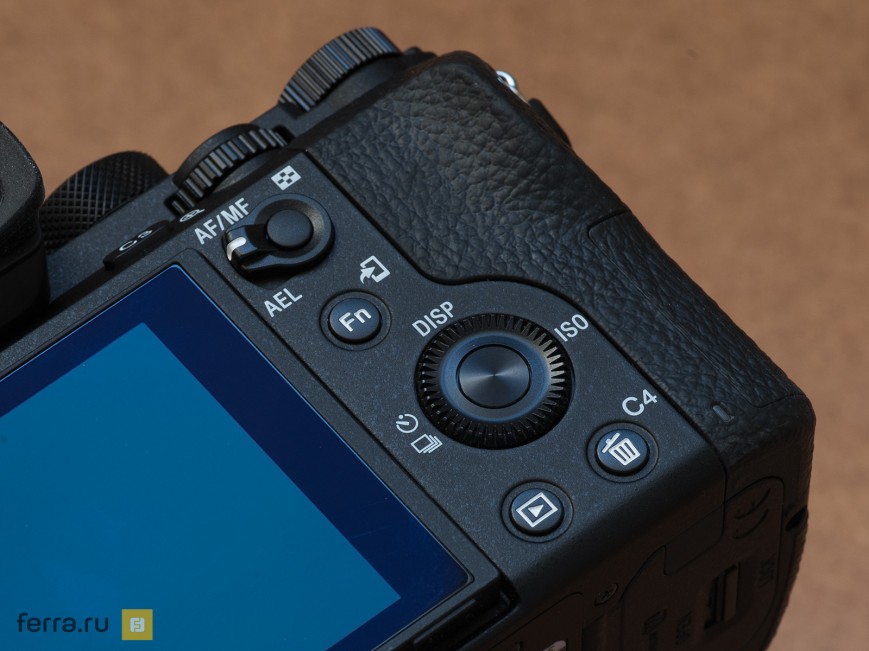 The controls on the back case Sony Alpha A7S II
Another innovation is the optional programmable keyboard key – it became common to three cameras A7 of the second generation. In total, these four buttons are now: C1, C2 and C3, C4.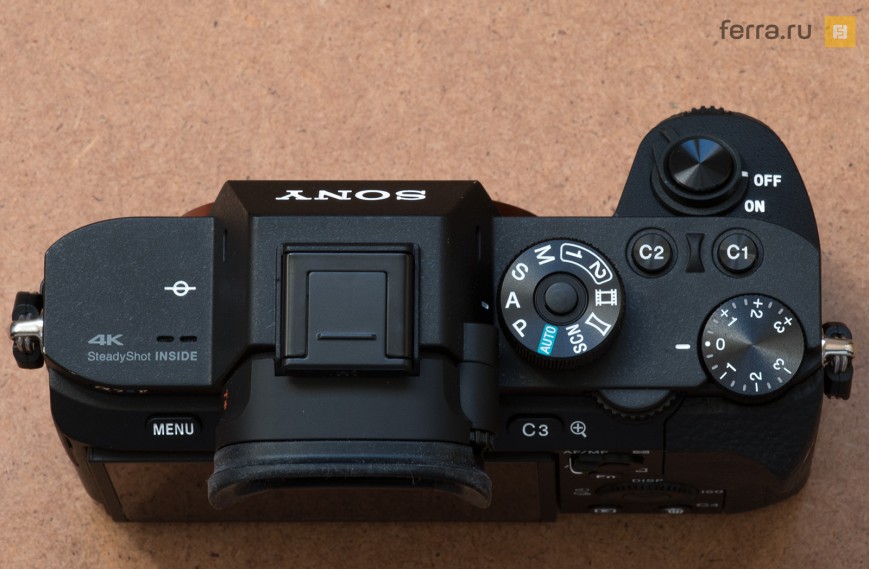 The top panel of the case Sony Alpha A7S II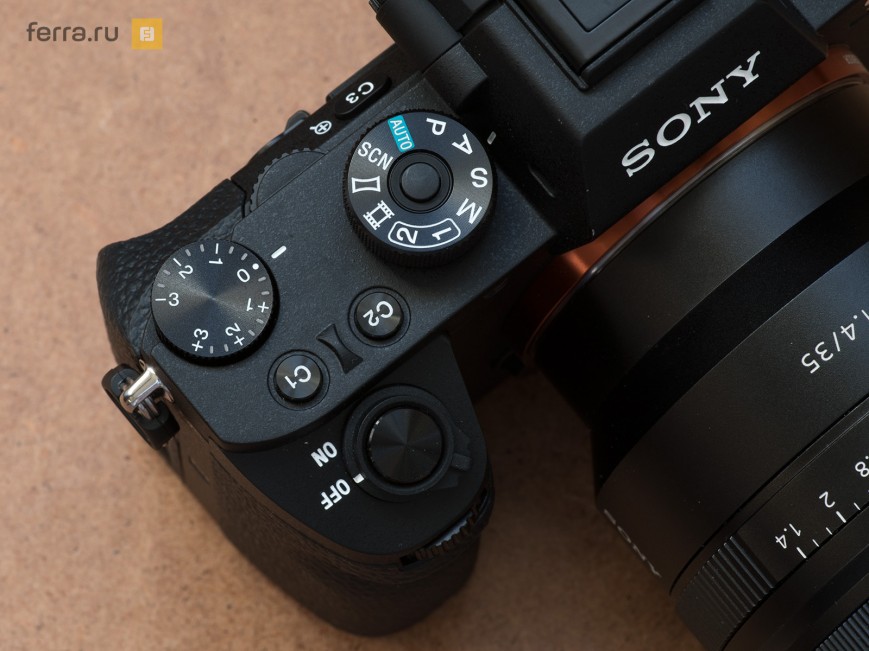 The controls on the top panel Sony Alpha A7S II
The electronic viewfinder was bigger, and the viewfinder is faster and lighter. On the area pictures it can easily be compared with sequential DSLRs like the Nikon D4. In my opinion, this is one of the few EVF, which the followers of the DSLR may be used without disgust bewilderment.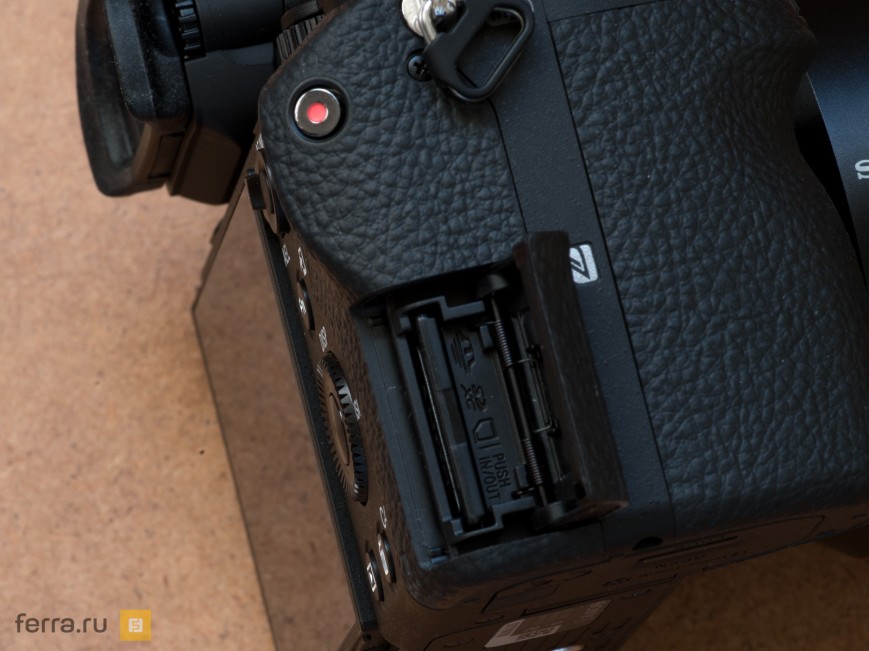 The card slot on the right side of the case Sony Alpha A7S II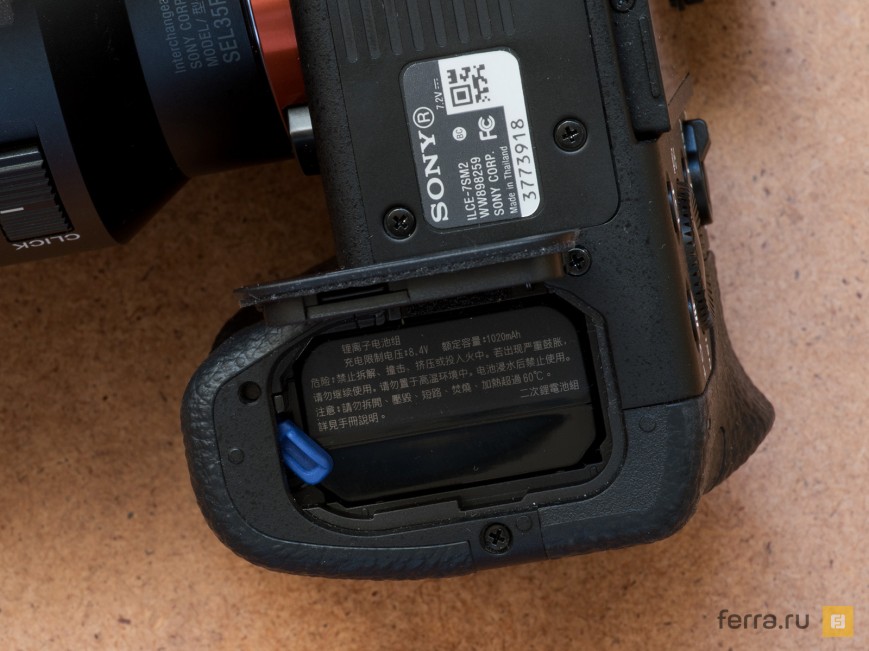 The battery compartment on the bottom of the body Sony Alpha A7S II
But the screen in its design and overall performance has not changed. Except that the resolution is slightly increased, but experience is not affected. Playground with a three-inch LCD-matrix is attached to a thin metal frame and is deflected by approximately 110 degrees up and 45 degrees down. Design seems to be very reliable, but in fact the frame has clear ribs, and the flat cable is bent smoothly through the guides.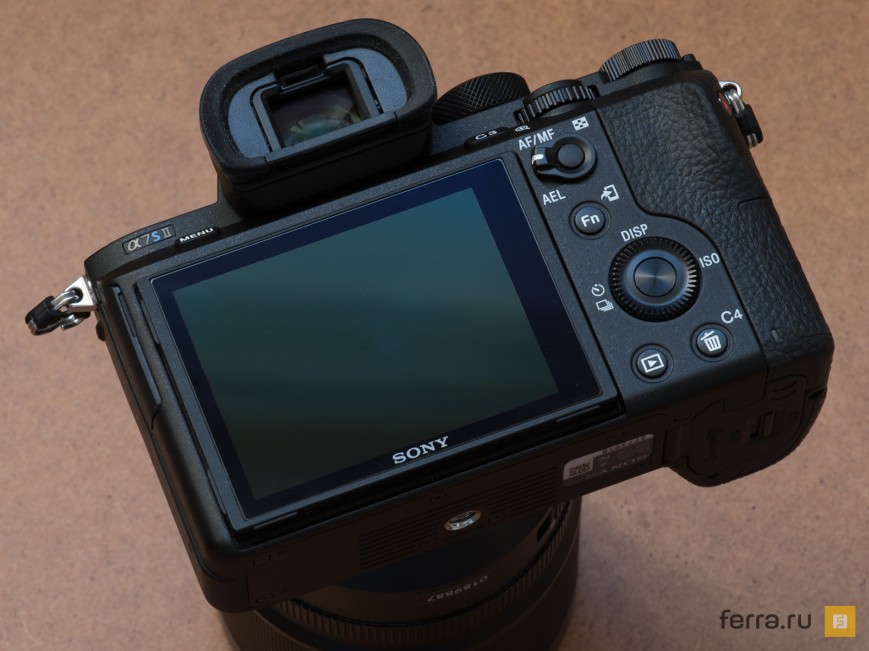 Screen and viewfinder Sony Alpha A7S II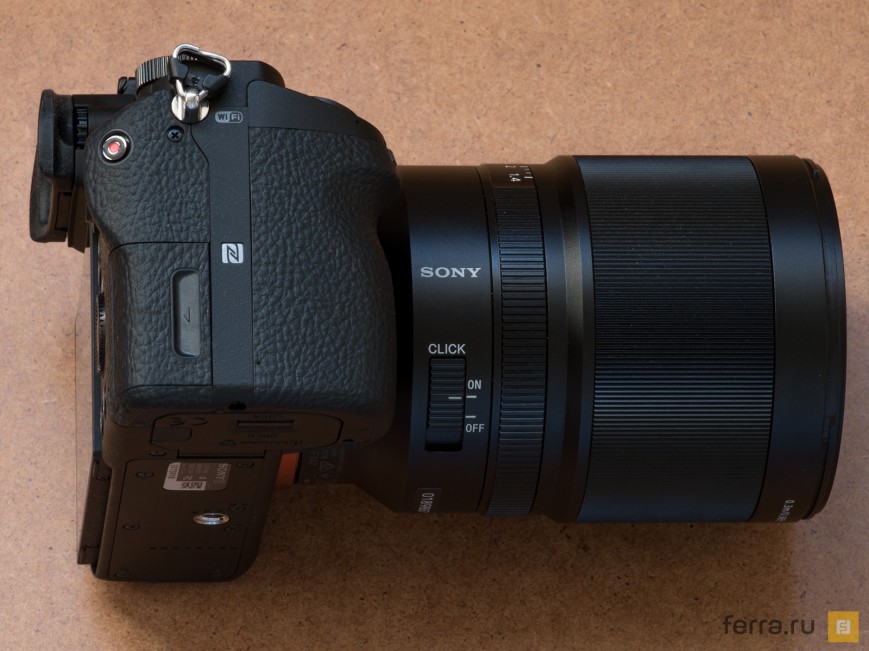 The right side face of the housing Sony Alpha A7S II
To find fault with the external execution Alpha A7S II is very difficult disadvantages are too subjective and are not so much to a specific model, but in General, the second generation of "sevens". I frankly do not like too long stroke of the shutter button, especially in the second position – click after a light pressing to trigger the autofocus should be clear, with a more pronounced tactile feedback. Power button video recording is also very inconsistent. On the one hand it is completely protected from accidental pressing, which is good. But on the other hand for pressing have to do very very unusual movement of the thumb, resulting in the grasp of his right hand slightly weakened.
Stabilization and speed
The key innovation of the entire line of A7 II is the built-in mechanical image stabilizer. Let me remind you that this is one of three current methods of stabilization, along with optical and digital. The advantage of this method is that it does not depend on optics. E-mount and a short working segment allow you to use almost any optics via an adapter, so it would be logical to ensure that the benefits of stabilization were able to experience all categories of users.
Seriously, SteadyShot stabilization works even if you put the old "Helios-44" with thread M42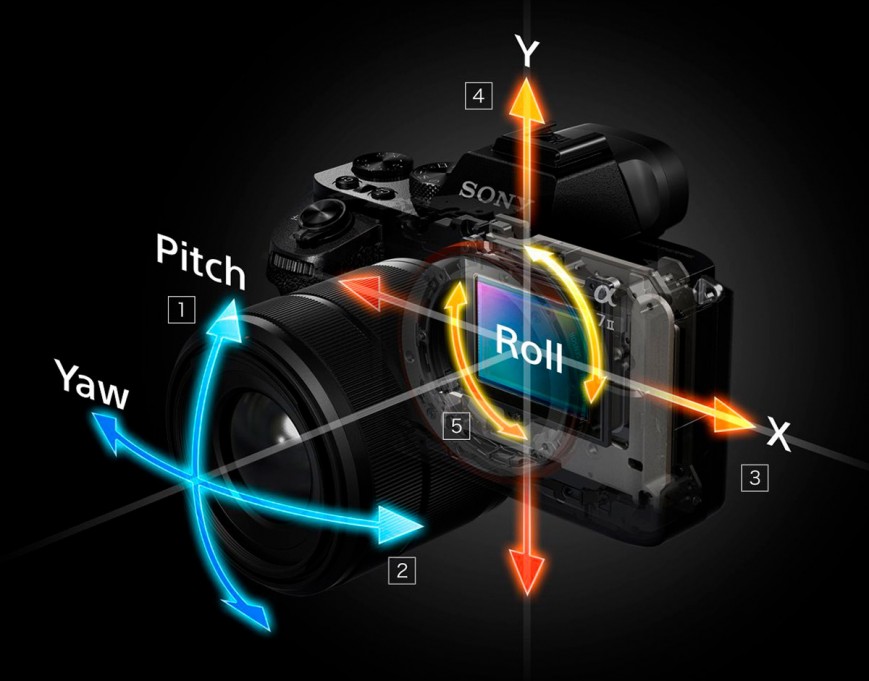 The scheme of the system image stabilization in the Sony A7S II
Stabilization occurs on five axes (tilt up / down, turn left / right, rotate clockwise and counterclockwise, and offset up/down/left/right) and gives a gain up to 4 stops of exposure. In combination with high sensitivity that enables to capture clear images without a tripod even at night. Below I will give real examples that were made in the worst conditions from the point of view of lighting without a tripod and without using real high ISO.
The next item on the agenda – improved autofocus. But, unlike Alpha A7R II, the new "s" were left without a hybrid, phase contrast system. It still uses contrast method of guidance, however, the focus points was higher (169 vs. 25), and the speed slightly increased.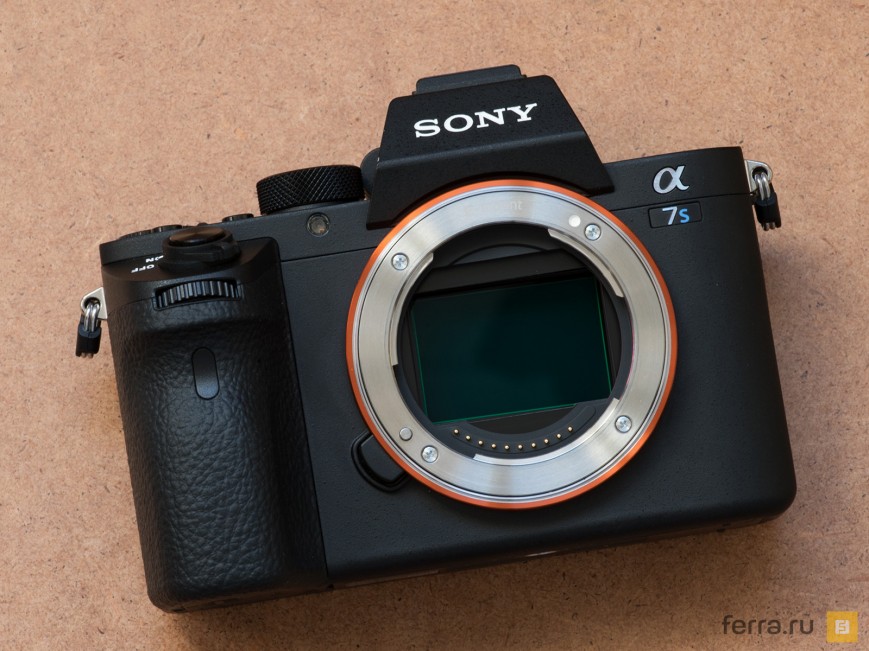 Sensor and metal mount Sony Alpha A7S II
Sensor, apparently remained the same, and the whole revision was concentrated in the software part. Namely, improved noise reduction algorithm, but our testing methodology does not account for this.
Last year's Alpha A7S is positioned as the optimal solution for capturing 4K video, but therein lay the insidious marketing ploy. By itself, the camera was able to record the material in UltraHD, she could only output the stream via HDMI, and to record the required external recorder. Included, of course, he was not. But now 4K (30 frames per second and a bitrate of 100 Mbit/s) can be stored on the memory card without any additional devices, however, the SD card will need a very fast camera just won't allow you to start shooting if the drive does not meet its requirements. Recording in lower resolutions are possible with increased frame rate, for example, the Full HD is recorded at 120 frames per second with progressive scan.
Shooting without rules
After the test period can be bewildering to note the fact that the rate A7S II is on the same level as that of the stuffed A7R II. The length of the series, of course, incomparable, but still why Sony have implemented at least 6 or 7 frames per second? Increased firing rate could be an additional argument in favor of a 12-megapixel model. But no, all the cameras in the A7 family (and the first and second generation) give a maximum of 5 frames per second.
Sensitivity A7S II is adjustable from 100 to 409600 units. The model with the index R allowed to accelerate up to ISO 51200, expandable up to ISO 102400. To assess the quality of the picture was used a standard test scene, lighting by an incandescent bulb of 40 watts.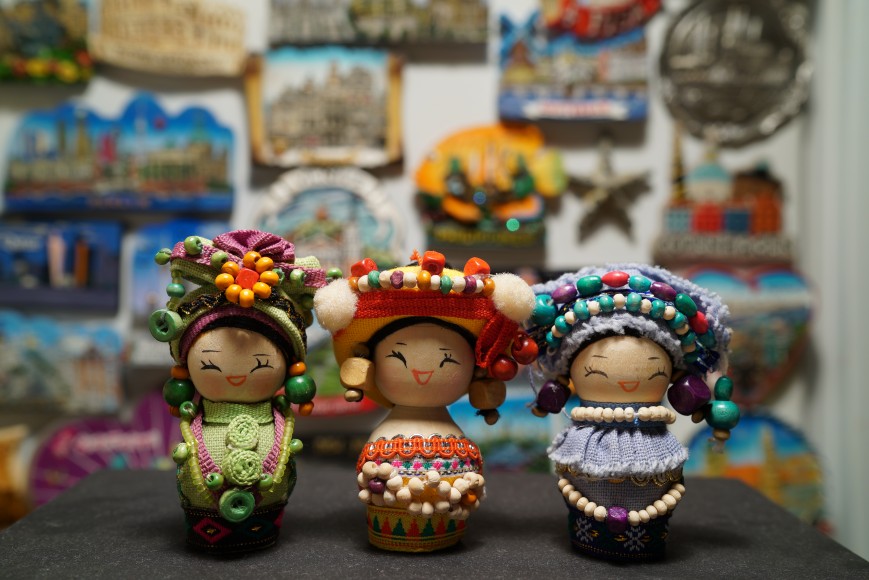 Sony Alpha A7S II, ISO 100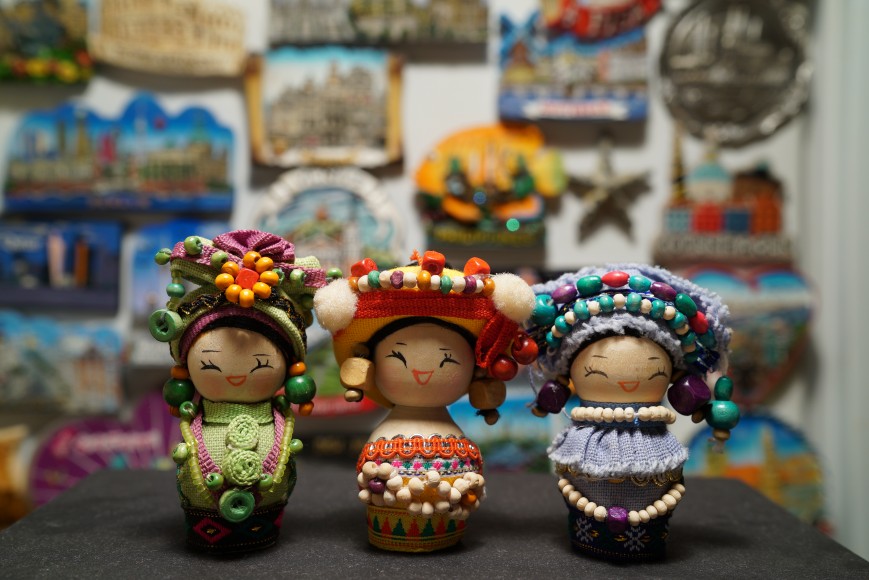 Sony Alpha A7S II, ISO 200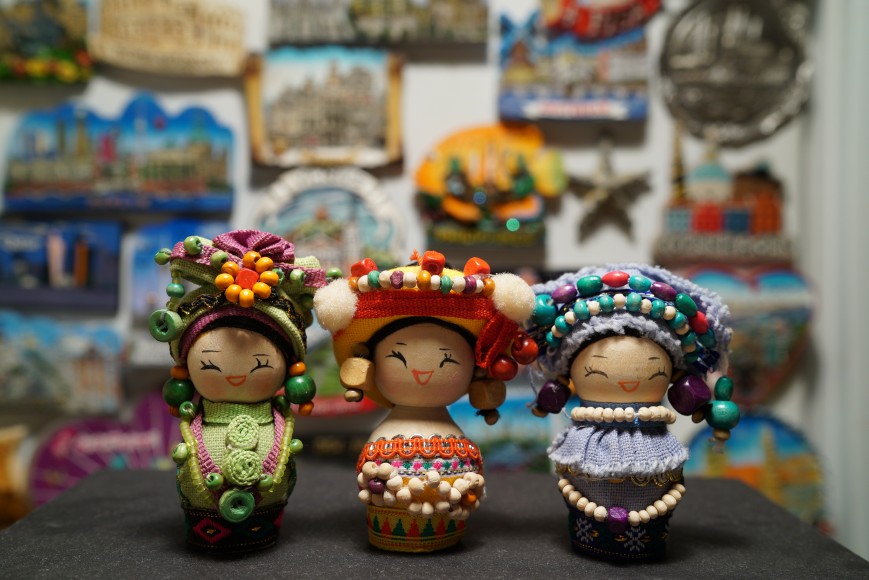 Sony Alpha A7S II, ISO 400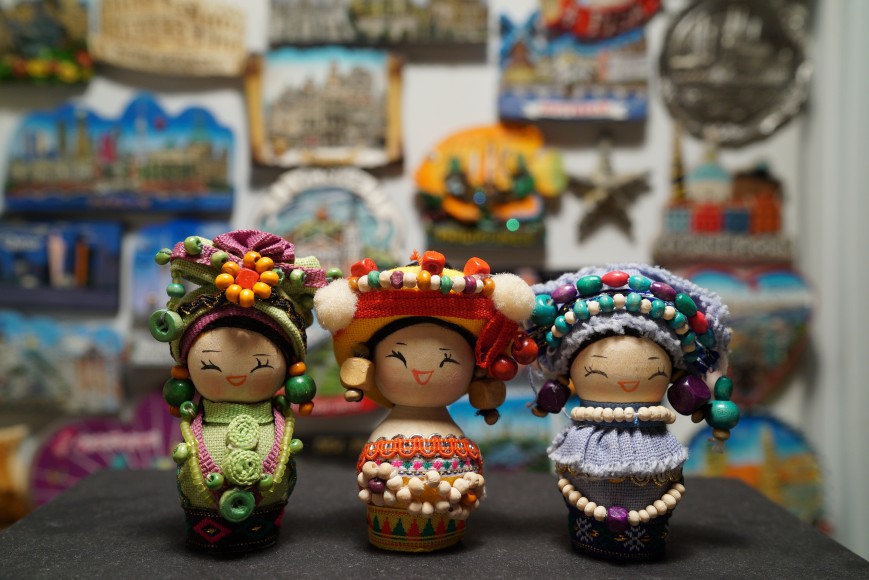 Sony Alpha A7S II, ISO 800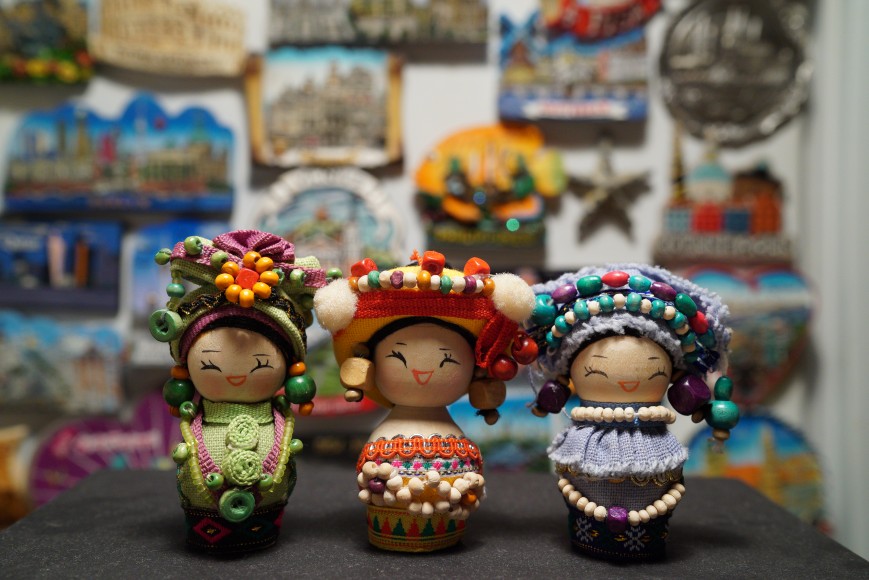 Sony Alpha A7S II, ISO 1600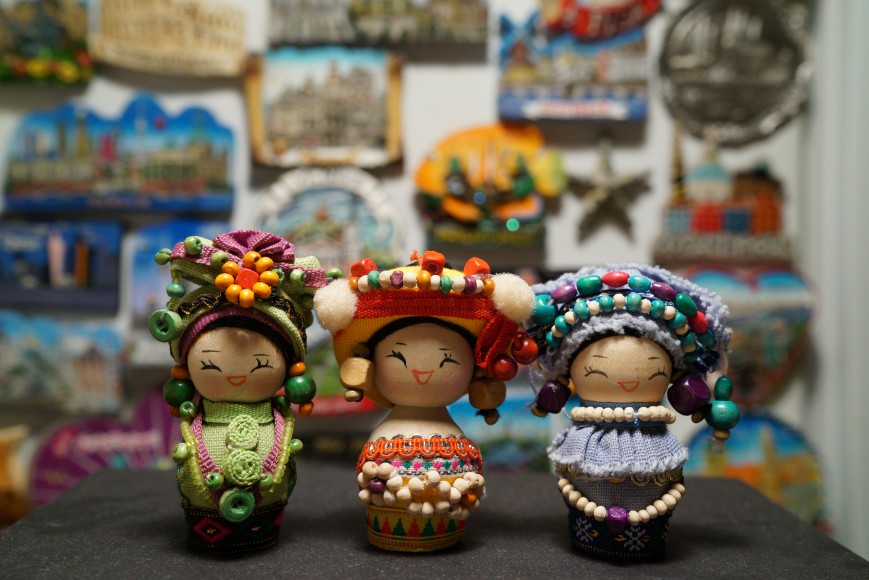 Sony Alpha A7S II, ISO 3200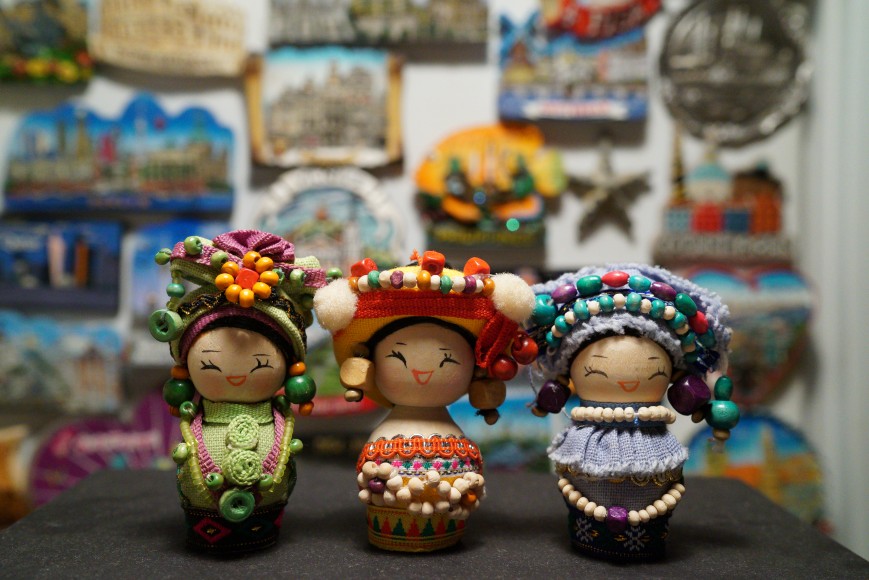 Sony Alpha A7S II, ISO 6400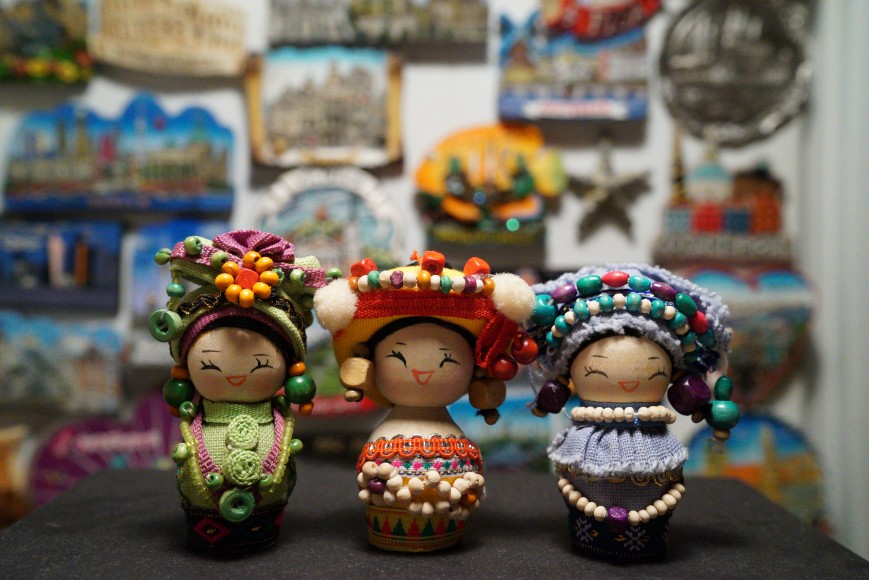 Sony Alpha A7S II, ISO 12800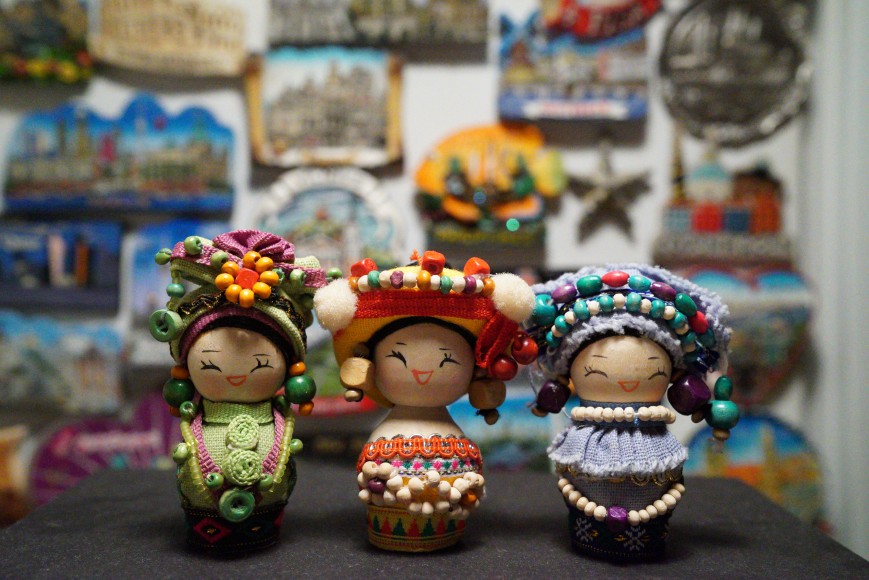 Sony Alpha A7S II, ISO 25600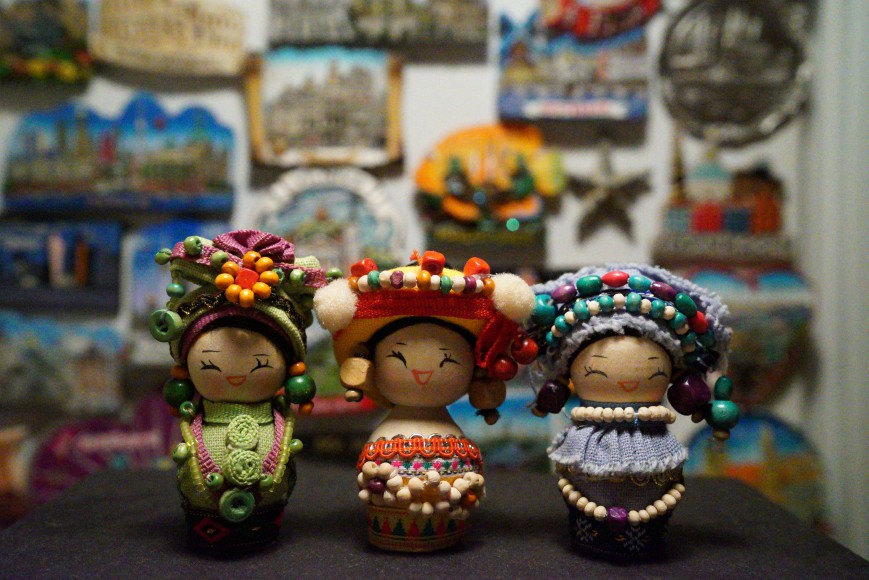 Sony Alpha A7S II, ISO 51200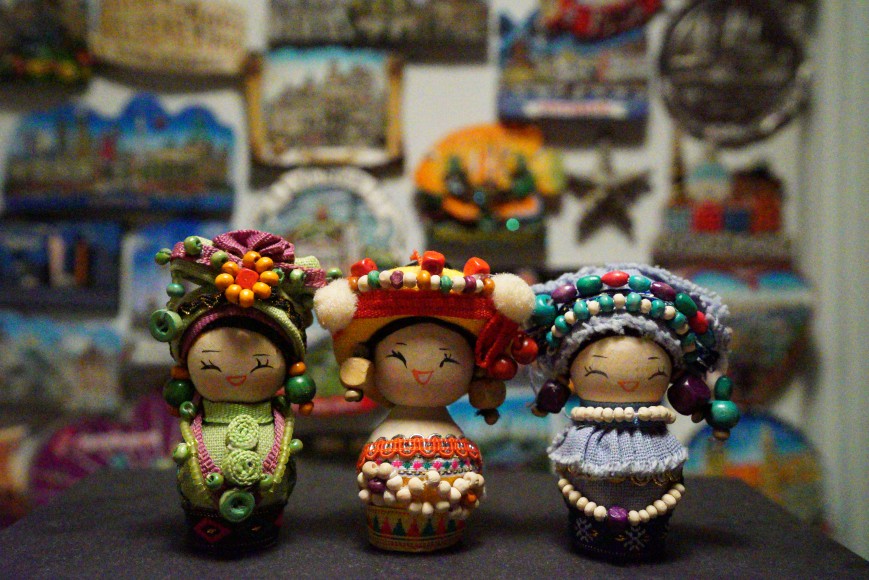 Sony Alpha A7S II, ISO 102400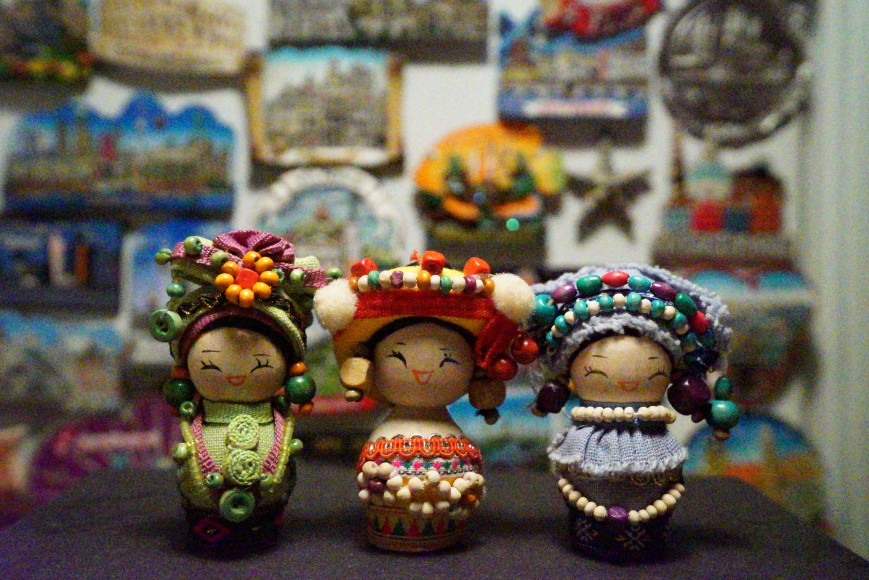 Sony Alpha A7S II, ISO 204800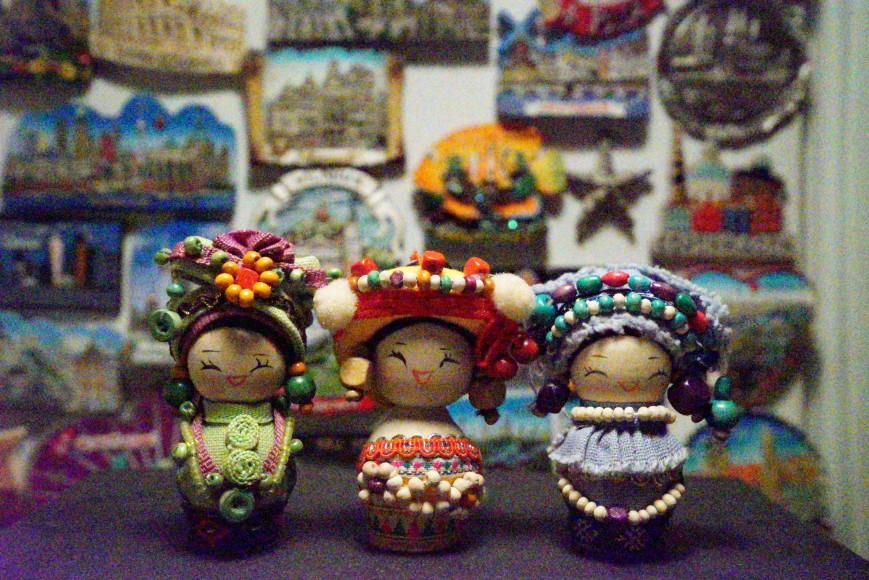 Sony Alpha A7S II, ISO 409600
Noise becomes visible starting with ISO 12800, but its impact on color reproduction and dynamic range slightly. With further increase of sensitivity by one notch the noise increases, but his character does not change. And only when switching to ISO 51200 noticeable qualitative leap in the opposite direction: the colors begin to distort, and the grain becomes clearly visible, but overall the camera is kept perfectly. For maximum sensitivity, the details remain distinguishable, and colours are reproduced more or less honestly. Of course, the miracle did not happen, and perfectly clean pictures on top of the camera gives, but it should be borne in mind that the majority of the analogues nowhere near getting to such a high level.
I had a chance to test the camera paired with a 35mm F1 lens.4 and have you had to cover the aperture to look at the real result of shooting at high ISO values. In practice, such high-aperture glass almost will save you from having to shoot at sensitivities above 25600 units.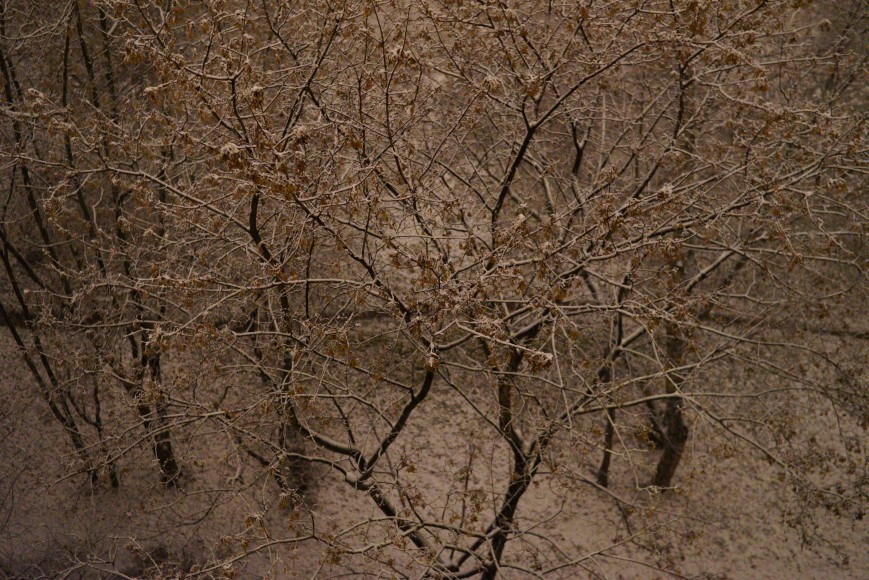 Sony A7S II, ISO 12800, 35mm, F2.0, c 1/30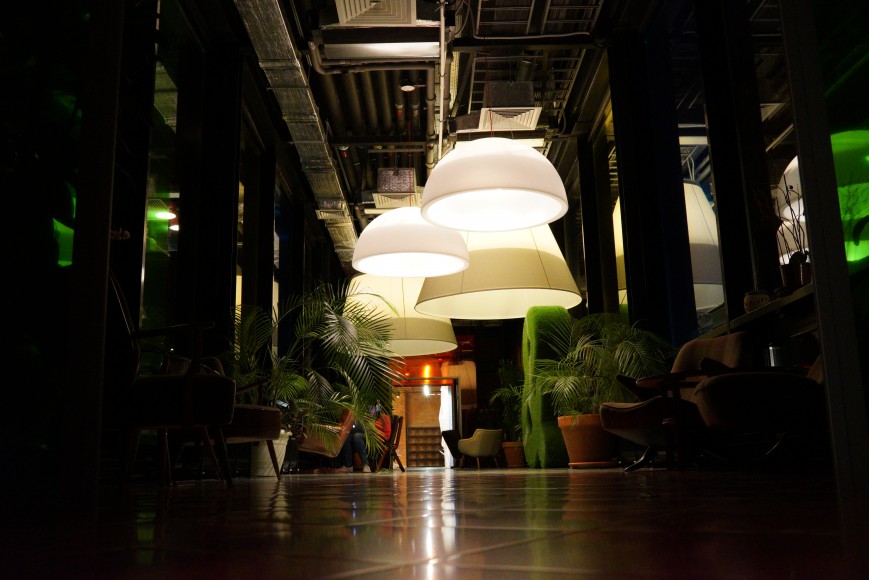 Sony A7S II, ISO 12800, 35mm, F9.0, 1/30 sec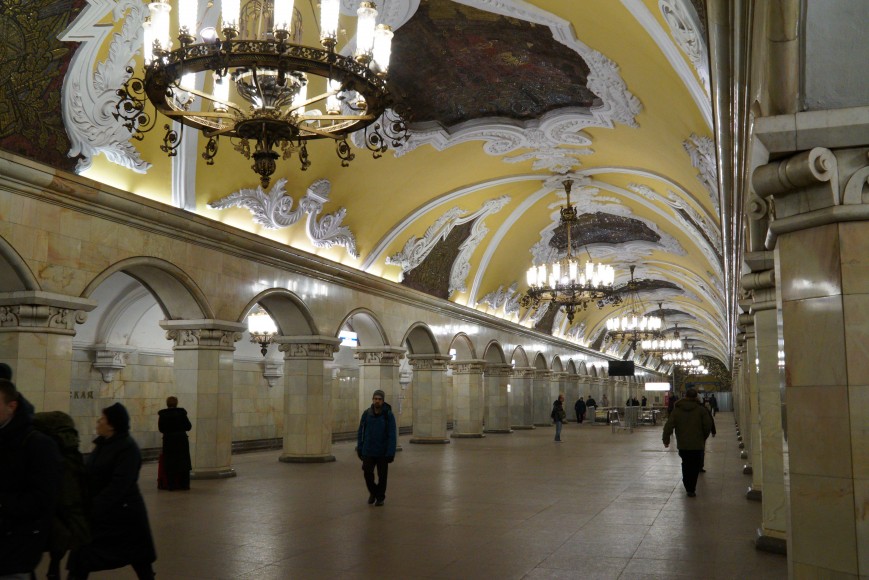 Sony A7S II, ISO 5000, 35 mm, F11, 1/60 c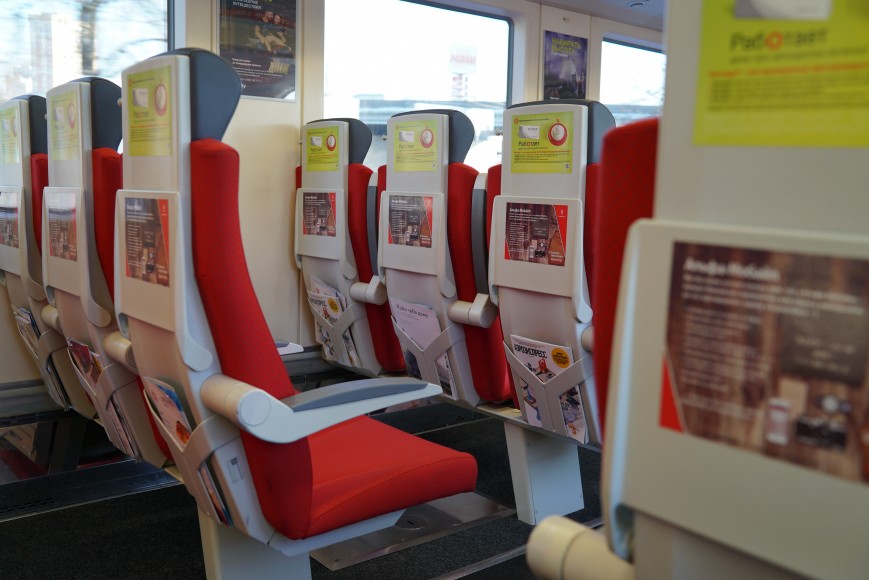 Sony A7S II, ISO 320, 35mm, F4.0, 1/60 c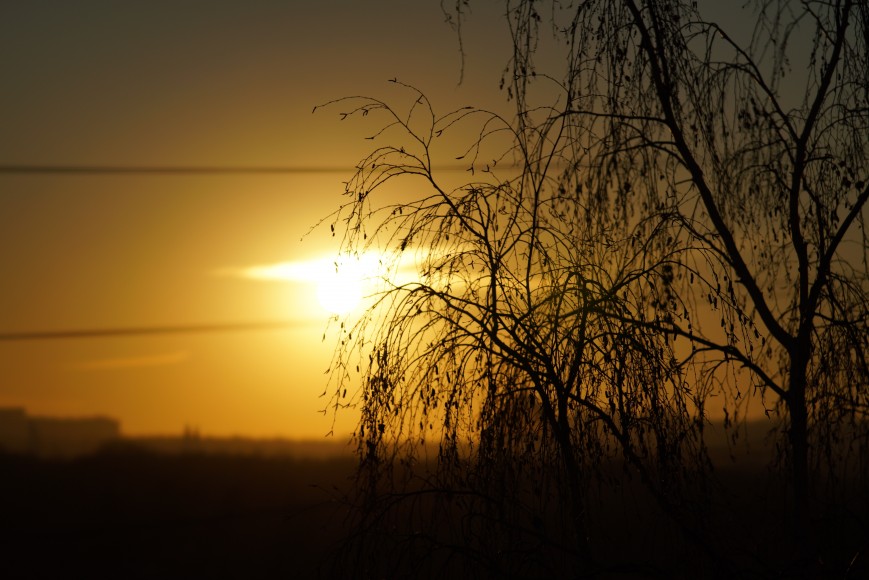 Sony A7S II, ISO 100, 35mm, F4.5, 1/5000 c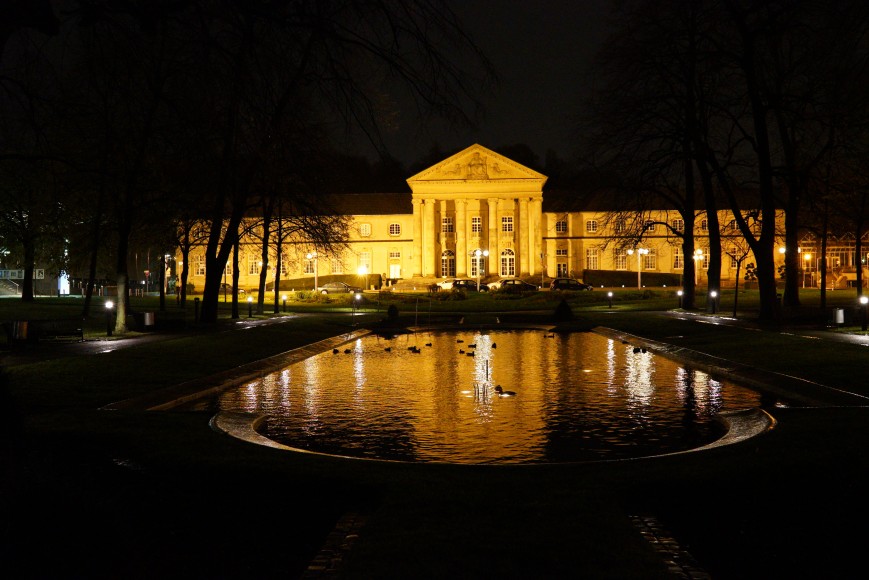 Sony A7S II, ISO 12800, 35 mm, F5.6, 1/30 c

Sony A7S II, ISO 12800, 35mm, F2.8, 1/20 c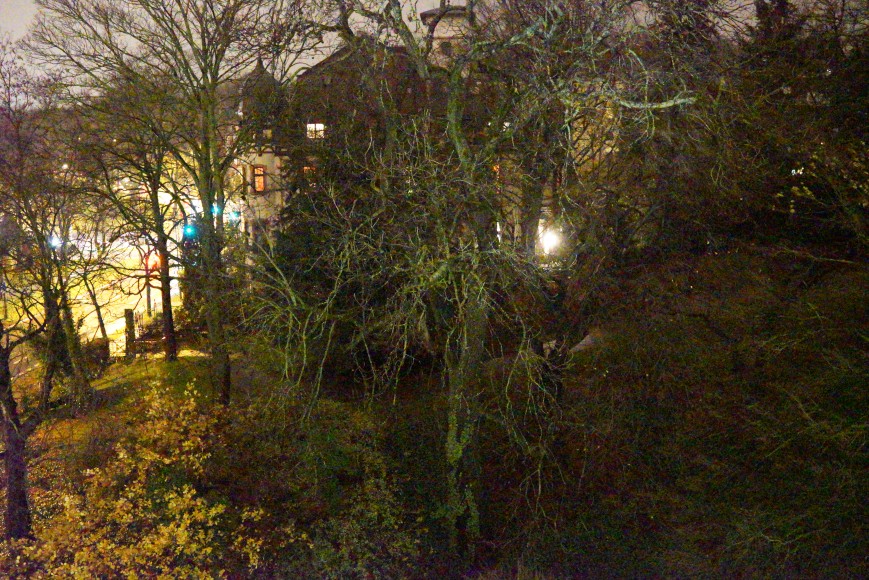 Sony A7S II, ISO204800, 35mm, F2.8, 1/40 sec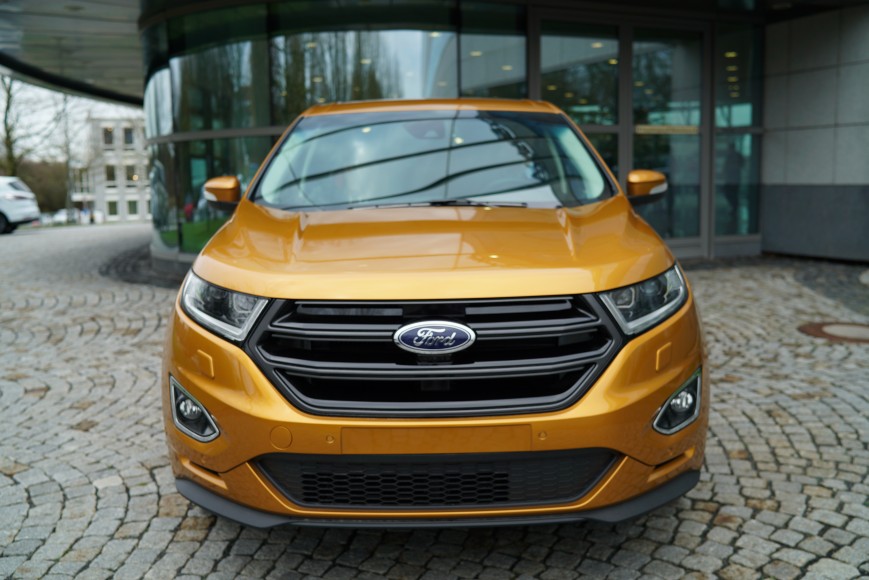 Sony A7S II, ISO 100, 35mm, F2.8, 1/200 c
The only thing that mirrorless cameras in General (and Sony Alpha A7S II in particular) cannot yet compete with the mirror is the battery life. In the absence of optical viewfinder its electronic equivalent (or screen) needs to be constantly active. And this is the main item in consumption. According to CIPA standard, a single battery charge Sony A7S II is enough for 370 shots. This is significantly less than that of the high-end DSLRs that allow you to shoot about 1000 frames, and slightly less than that of the original A7S. Affected by the presence of built-in stabilizer. The good news is that the gadget comes with two batteries at once and charge them inside the camera via USB to computer system or mobile battery, or by using a separate charger from the wall outlet.
To save power, I advise you to use the viewfinder (it is still less energy than the screen) and disable the integrated Wi-Fi module immediately after shutdown – automatic shutdown takes quite a long time.
What is the result?
One can endlessly argue about which is better, DSLR or mirrorless. But these disputes ultimately come to nothing lead. Sony very confidently captured a niche full frame cameras with interchangeable lenses and very confident ahead of the nearest competitors. Perhaps, technically the second generation A7S doesn't look as spectacular as the A7R II. There was a focus hybrid, and the sensor used backside illumination technology. But these models are well-spaced, and no internal competition between them. A7S II is very suitable for reportage genre, due to the high sensitivity and good results when shooting in the dark. A7R II but should rather be of interest to Studio photographers and those who shoot to print large formats.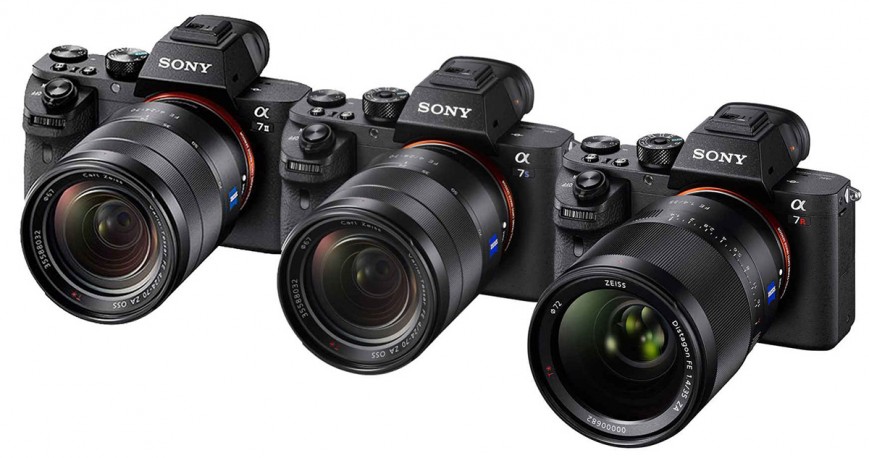 The complete family of the second generation of Sony Alpha A7 II
Is there any sense in switching from on A7S A7S II? From the point of view of the photographer, rather no, than Yes. You will hardly notice the difference in picture quality at high sensitivity, so that the available money is better spent on better optics and wait for the release of the third generation "sevens" Sony. But the operators reasons to upgrade will be more. First, the kit for shooting 4K will become smaller and lighter due to the lapse the need for an external recorder. Secondly, the new camera supports modes gamma S-Log for a more flexible and convenient color correction. And thirdly, A7S II allows you to use external power directly in the process of shooting. Previously, you had to stop to charge the battery, but now the camera continues to shoot with the connected adapter.